Su Casa Magazine Article "All About Rugs"
Michael Rose, owner of One World Rug Care was recently interviewed by Southwest Homes Su Casa magazine for an article entitled "All About Rugs" in their December issue.
When asked "Once you've invested in a rug, how do you make it last?" Michael responded with the following.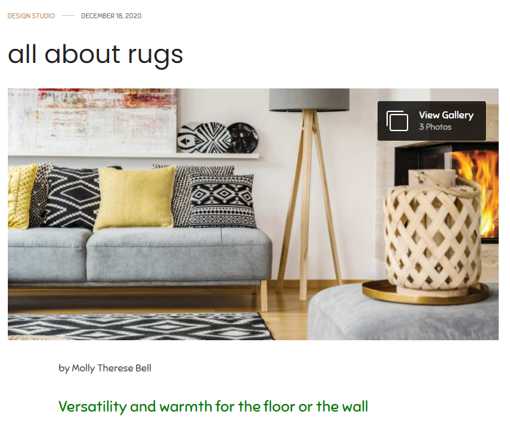 "There's no need to clean a rug too frequently. "Unless there's an accident—dog urine, for example—it's only necessary to clean a rug every three to five years," he says. However, Rose does suggest that rugs should be professionally dusted annually. "Professional dusting is a process that gently loosens and removes abrasive grit found deep in the rug's fibers," he says. "The process can leave the rug looking as though it's been thoroughly cleaned." According to Rose, "rug dusting also gives us the opportunity to rotate the rug for more even wear, and to mitigate the risk of moth infestation."
Rose recommends investing in the finest wool rug you can afford. Why wool? If cared for properly, wool will maintain a good appearance for generations. It has exceptional resilience in high-traffic areas and is naturally soil-resistant. Additionally, it has superb insulating qualities and is luxuriously soft and warm underfoot.
No matter what type of rug you choose, be sure to use a rug pad that is compatible with both the rug and the flooring below. With proper care, your rug investment may be enjoyed for many years to come.
Visit Our Shop
7200 Jefferson St NE
Suite A
Albuquerque, NM 87109
Email Us
mrose@oneworldrugcare.com