Pre-Inspection & Dye Stability Testing
In addition to assessing the overall condition of each rug during the pre-inspection examination, we are checking every rug for any structural damage, pet stains, and signs of moth damage. We also test for dye stability, especially if we spot evidence of any water damage, pet urine, or if we see any visible dye bleed. This crucial step allows us to do two important things: It opens up an informative dialogue regarding what each individual rug needs, and it sets us up for success on the wash floor!
Pre-Inspection (Photo)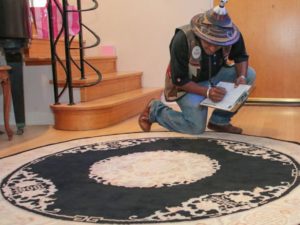 Owner, Michael Rose, Pre-Inspects a rug

Dusting & Dry Soil Removal
Prior to cleaning, we spend a lot of time focusing on removing the gritty, particulate soils and pet hairs that regular vacuuming will often leave behind. Because every rug is constructed differently, our dry soil removal methods are designed to match the needs of each individual rug. Even if it's not time to have your rugs cleaned yet, we recommend this step as an annual service to help the overall health of the rugs in your home, and to extend the life of your rugs.
What Is A Rug Badger? (Photo)
The Rug Badger is just one of the tools that we use to remove dust and dry soil from our clients' rugs. Specifically designed for area rugs, the Rug Badger uses the power of over 40,000 harmonic vibrations/min, the to separate heavy sediments and dirt from area rugs.

Rug Washing
One World Rug Care refuses to use automated wash systems or huge tub washing equipment. While those large machines are cool to see in action, it is our deep belief that they often cause more harm than good. They expose your rugs to harsh chemicals that are used to reduce contaminants, pet urine, and loose dyes that exist in the water, and ignore the real science and art behind rug washing. We never want to be in a position where we have to justify the purchase price of such huge equipment by treating your rugs in an unsafe manner.
More Info
We are able to eliminate all of those risks by taking the time to care for your rugs the right way – one at a time with clean, cool water, and green solutions that are safe for your rugs, your home, and the environment. Because we clean with a flexible and customized "best method practice" for every rug, the procedures we use fit the unique nature and condition of each rug instead of trying to make the needs of your rug fit into an automated wash system. In fact, we utilize seven of the safest cleaning methods in the industry to ensure that each individual rug is treated properly.

Pet Odor & Pet Urine Odor Removal
Rugs with pet odors can become a real source of embarrassment. Bacteria from occasional pet accidents and the oily residues from their fur can not be vacuumed away. When our suggested odor removal protocols are followed, we will fully guarantee the pet odor and pet urine odor removal. Exclusions to this guarantee include most tufted rugs and rugs that have been deemed so badly urine damaged that the structural integrity of the rug has been compromised.
Use the sliders below to explore a few of our most recent Before and After Cleaning Images.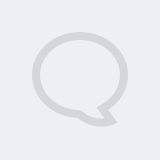 What Our Clients are Saying
One World Rug Care cleaned 4 rugs for us, including one that needed some repair. The rugs are beautiful and look better than ever after One World work. It was a pleasure to have Salhal, Maurice and their colleagues in our home. The work was done on time, including pick up and delivery. Exceptionally high quality at a very reasonable price. We enthusiastically recommend them for whatever rug care is needed.
~JoAnn M.
Michael is amazingly knowledgeable about the history and art of weaving rugs. His knowledge goes well beyond local rug manufacturing. We consulted him about cleaning some of the Persian rugs we have, and was surprised he was able to recognize the area in Iran that rugs were woven; he talked in details about the designs of those regions. He has a passion for rugs, its art, design, and historical evolution; he does not see rugs as a mere profession.
We were pleased to find him for evaluation and servicing our rugs.
~Naser M.
Michael is as knowledgeable, skilled, and professional as they come. He uses old world techniques that preserve the authenticity and composition of your rug. This is hands down THE BEST company around for any antique, heirloom, or just plain nice rugs that you own.
~Jake H.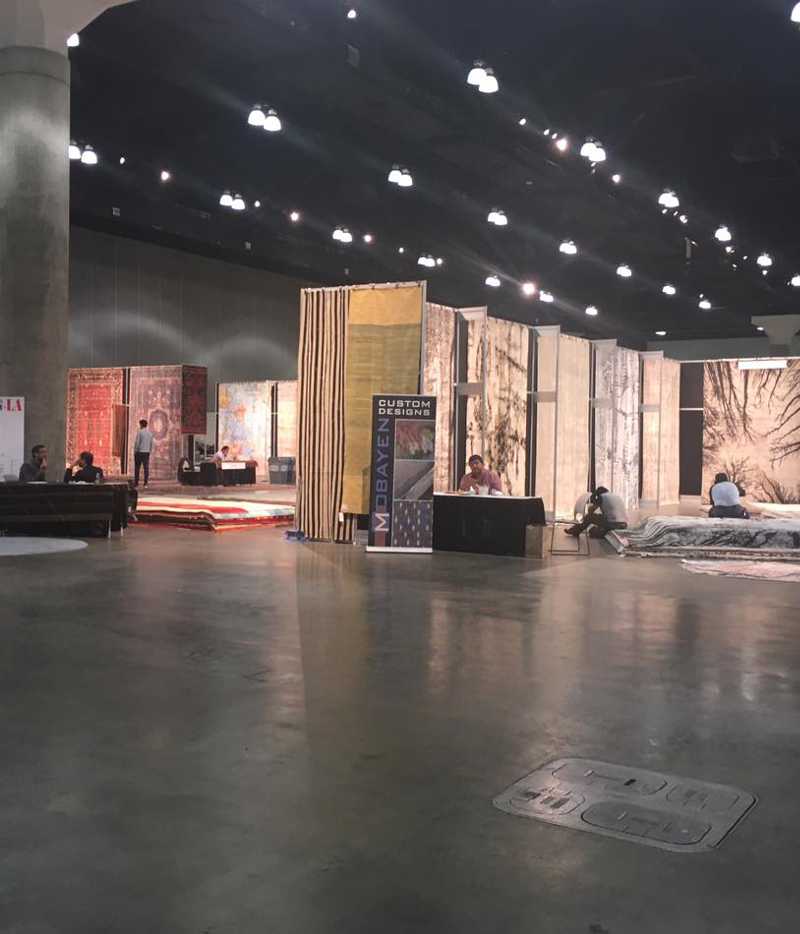 Get In Touch
If you have any rug care questions, would like to schedule a pick-up or delivery, or have questions about our showroom inventory, the friendly and knowledgeable staff at One World Rug Care is here to assist you!
Visit Our Shop
7200 Jefferson St NE
Suite A
Albuquerque, NM 87109
Email Us
admin@oneworldrugcare.com