Mastering The Art Of Professional Rug Care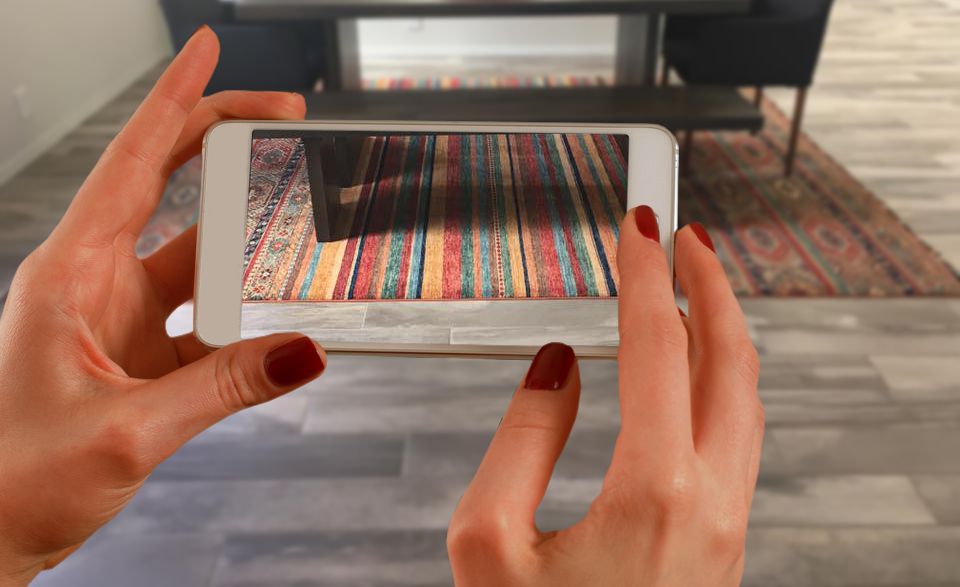 Request an estimate from your smartphone
At One World Rug Care we make it as easy as possible for you to receive an estimate for our rug care services. Click below to learn how you can use your smartphone to submit images of your rug and receive a FREE estimate.
It's a quick and easy process to request an estimate using your smartphone!
How To Submit Your Photos
If you use the email method, please also include a note with your phone number in case we have any immediate questions.
Step 1
Take several photos, including two that show the rug in its room setting so that we can judge the size of the rug as well as the extent of notably damaged or stained areas.
Step 2
Take closeup shots of notable stains or damage, plus a photo of any tags that may be on the back of the rug.
Step 3
You can 'share' the photos with us by either texting them to 505-918-9804, or via email to oneworldrugcare@gmail.com, or just drop by and show us your phone!
One World Rug Care Services
One World Rug Care provides a full line of professional, specialized rug care services to help you keep your treasured rugs looking their very best for generations to come. Here are just a few of the services we offer…
One World Rug Care Services
One World Rug Care provides a full line of professional, specialized rug care services to help you keep your treasured rugs looking their very best for generations to come. Here are just a few of the services we offer…
Eco-Friendly Rug Pad
One World Rug Care carries the best eco-friendly rug pad available!
It's made to last longer than typical rug padding, is made from recycled materials, and has been named a Green Label product by the Carpet & Rug Institute. If your current rug pads are 3-5 years old or more, it's time to replace them with our eco-friendly rug pad.
Protect Your Floors from
Spills and Pet Urine
The Importance of Rug Pad
Our goal is to provide the most complete, safe, and advanced rug care possible. Beyond cleaning, our line of services includes expert hand repairs, color correction and over-dying, custom-made rug hanging racks, and eco-friendly rug pads – to name only a few! We joyfully go the extra mile to ensure complete customer satisfaction.
Our vision is to raise the integrity of the health in your home by refusing to clean your rugs in a communal wash-pit or automated wash system. We care for your rugs one at a time to prevent the risk of any dirty water cross-contamination from other rugs, never having to resort to using harsh chemicals, like dichlor or bleach, to sanitize our water. Your rugs are handled safely, and are treated with respect. 
Our dream is to lessen our ecological footprint by keeping as many rugs from the landfill as we can through our rug donation center, sourcing products for our showroom from seven different Fairtrade organizations, and by committing ourselves to using green cleaning products.
Top 8 reasons you need One World Rug Care.
We are Locally Owned and Operated
A+ BBB Rating for over 6 years
We have the most Experienced and kind staff available for every job.
We are Certified Rug Cleaning Experts. To add evidence, we have achieved the highest levels of recognition by three of the top recognized organizations in our industry. The IICRC ( institute of inspection cleaning and restoration certification), ARCS ( Area Rug Cleaning Specialists), and The AOR (Academy Of Oriental Rugs).
Our team takes pride in the work that we do as experts.
Significant Community involvement with local schools, charities, and religious organizations to assist in fundraising programs for youth and underprivileged families.
Our President and Director have worked and continue to work in the Area Rug Cleaning Educational Industry, which brings significant value to our community, you, and team.
Client satisfaction is our #1 priority and you will be thrilled to have the pleasure of conducting business with us!
Who are you trusting your area rugs with?
It's very simple and straight forward… Trusting your rugs with anyone without vetting is a crap shoot. Do they have an actual facility? What type of formal or non formal training have they acquired?
From a liability standpoint point you should be 100% sure where your rugs are being stored and cleaned until returning home.
Is the company licensed and bonded to handle such contents.
Verify portfolio of credentials, experience, and certifications.
If you cannot visit their facility that should be an immediate red flag.
Your rug(s) could get lost, cleaned in appropriately, damaged, and the list goes on.
We invite you to visit our cleaning facility anytime even if your simply in the neighborhood and have an extra few minutes. Our highly trained team would gladly show you around!
Why you shouldn't let a Carpet Cleaner clean your area rugs.
Trusted Rug experts around the world would agree that in-plant rug cleaning is highly recommended for proper maintenance of Any loose-laid area rugs. They should not be cleaned on location for many reasons:
Area rugs are very different from broadloom wall-to-wall carpet. There is far more natural fiber in area rugs such as wool, cotton, silk, bamboo silk, jute, and the list goes on.
If the rug has a backing it could be susceptible to shrinking and or simply damaging your floors. Rugs with backing fabrics have a thick layer of latex structurally securing the integrity of the item, which require very specialized care by a professional.
Construction is different: woven and hand knotted constructions are most prevalent in area rugs and have significant sensitivity.
Cleaning technologies and area rugs are very different from one another and should be address by a professional. Failure to perform specialized procedures in a cleaning plant may result in permanent damage to the rug and flooring materials under and around the rug. Incomplete dry soil removal may further deteriorate the rug and produce permanent wear patterns. Understanding this concept, sometimes the damages cannot be corrected or cost thousands of dollars to correct by the inability to adequately dust a rug in a home. It is recommended that any rug should be professionally dusted annually for optimal durability and to maintain a healthy interior environment. Call us today to have any of your questions or concerns answered by our team of experts.
Our customers enjoy free pick up & delivery in Albuquerque, Santa Fe, Taos, Corrales, Rio Rancho, Placitas, Farmington, Durango, CO, and Pagosa Springs, CO.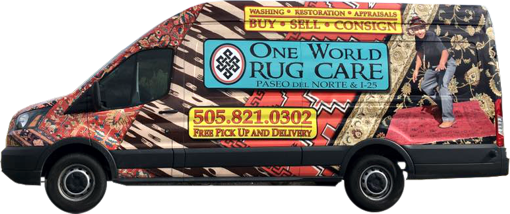 Committed to Providing Excellent Care & Service 
We are active members of the Academy of Oriental rugs, and we have earned our reputation as professionals in our area of expertise, even to the extent that we are called upon to train other professionals.
Our cleaning technicians are thoroughly trained to identify unique characteristics to custom clean your rug or textile according to our standards of excellence. Our skilled rug repair specialists are attentive to the detailed mending needs of your rug.
If you have any rug care questions, would like to schedule a pick-up or delivery, or have questions about our showroom inventory, the friendly and knowledgeable staff at One World Rug Care is here to assist you!
Visit Our Shop
2100 Osuna Rd NE, Suite 300
Albuquerque, NM 87113
Email Us
admin@oneworldrugcare.com